Incline Roof Restoration can provide you a quality and assured service that you deserve.
We provide 24/7 support to all our clients that choose Incline Roof Restoration for all their roofing needs!
As we take pride in our work and service, we make sure all our jobs are completed to our clients' satisfaction.
We take that further step in service by sitting down with our clients and working through what exactly needs to be done. Whether it's choosing the right colour, product or method, we will assist you in making the right decision to suit your budget and style of home
Incline Roofing Specialise in the following: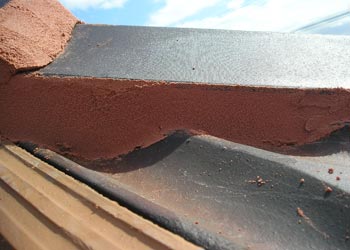 Re-Pointing
What does Re-pointing mean?
In the past, the pointing was just a thin layer of oxide coloured sand/cement. Then 'flexible pointing' was introduced . It is a second layer which goes over the top of the bedding to help create a stronger hold for on the tiles and seal the roof against dust and water.
Flexible pointing, is a water based compound that adheres to roofing tiles and ridge caps on tile roofs. It seals the ridge cap to the standard tile or gable end. It's main purpose is to keep roof sealed and moisture out thereby protecting the roofing system it also is a very flexible compound which means it moves with the roof therefore it wont crack like traditional mortar and it is applied by pushing it into the cracks of the mortar which forms a solid seal and and a stong bind to the roof tiles as well leaving your roof completely sealed .
If this process is not done correct it will just peel off and there will be no binding to the roof there by having the roof exposed and create other issues it is important that this process is done professional by a roofing specialist at Incline Roofing we know that preparation is very important and we specialize in this field to get the best result for our customers.
Combinding a 3 coat application system
1. One Coat of Nutech Penetrating Or High Build Primer.
2. Two coats of either Tileflex 2000 Enhanced with Self Cleaning
Nano-Technology or NXT Cool Coat Infrared Heat Reflective Coating also Enhanced with Self Cleaning Nano-Technology.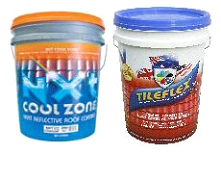 Your roof will stay cleaner for longer than any conventional acrylic roof coating thanks also to our chemistry being impregnated with Self Cleaning Nano-Technology.
De-Mossing
Roof cleaning is the process to remove algae mold, mildew, lichen and moss from roofs. Roof cleaning can extend the duration of a roof's ability to function.
Pressure cleaning Terracotta roofs
Terracotta roof tiles are typically cleaned to have the visible moss and lichen removed. Terracotta tiles are made from natural clay which is a naturally moist material. Moss and lichen is attracted to the roof tiles surface, and if left will continue to grow and most likely restrict the flow of rain water over the tiles surface, into the roofs gutters. An application of an anti-fungal solution should be applied to all moss and lichen,  prior to undertaking the roof cleaning process. Once the anti-fungal treatment is applied, the roofs tile surface is high pressure cleaned using around 3000psi water pressure.Removing the moss and lichen will bring the tiles natural colour to light and will help ensure the roof performs the way it was designed..
Old Terracotta roof tiles will become brittle over time and if so should not be cleaned; as the tiles may break underfoot and water will enter the roof cavity as a result, creating more issues. It is also difficult to walk on and work with brittle roof tiles, which makes it difficult to achieve any effective result.
Some Terracotta roof tiles may show evidence of "Tile Fretting", and depending on the extent of this problem, will not benefit from any application and should not be cleaned.
Terracotta roof tiles which have glazing evident should not be sealed; painted or coated as an application such as this would have trouble with any mechanical adhesion.
Brittle or Fretted Terracotta roof tiles should be replaced when required, as money spent on roofs with these problems would mean money wasted.
It's worth mentioning that terracotta tiles never fade and always retain their colour. This is because the colour is a natural attribute of the material.
When high pressure cleaning terracotta tiles Incline Roofing knows that it is important that you get a professional because it is your home or assett and you want to increase the value and appearance not decrease it if this process is done right you will increase the appearance of your property and increase water flow down to the gutters and will keep the terracotta tiles lasting longer for years to come.
Fixing Leaks
Water typically comes in through worn, broken, or missing shingles; where nails have worked loose; or through corroded or poorly sealedroof flashing around vents, skylights, or chimneys or along the intersections of roof planes. Incline Roofing fixes leaks fast. Water typically comes in through Broken roof tiles, Rusty valleys, Faulty ridge cappings and blocked gutters. Incline Roofing will inspect these issues and fix leaking roofs fast.
Re-Bedding
What does Re- bedding mean?
All Tiled roofs have ridge capping the ridge capping is held down and supported by bedding this is a mix between (sand and cement based mortar. Sometimes the bedding may be so deteriorated that there is no cement under the ridge capping at all. Or the bedding will crack as it naturally shrinks therefore the bedding can no longer bind to the roof and must be replaced and repaired and in that process it should ensure that the ridge capping, valleys, gable ends or barge capping are secure on the roof and run in a nice straight line.
A roof inspection from Incline Roofing should be carried out to get an idea of the condition of the bedding. As well as entire roof condition.
High Pressure Cleaning
What is high pressure cleaning a roof?
Before you start the process of painting your roof you will need to High pressure water clean with a 3000 psi mashine on your roof that would require to remove moss, lichen and grime to ensure the roof is clear of dirt and that the roof is professionally cleaned so that any coating that is applied to the roof will stick before painting it. Then once the pressure cleaning is done as this does create a bit of a mess from all the dirt from the roof the process of cleaning any areas that have been effected from the pressure cleaning so there are no dirt around the house or on the roof then once all complete and everything is clean you can start to paint roof. At Incline Roofing we know that The most important part of the job is preparation if this is not done professionally this will cause the entire job to be damaged beyond any repair.
Replacing Roof tiles and reasons for roof leaks
Broken Roof Tiles
The most common causes of roof leaks are broken roof tiles. At Incline Roofing we believe there are a few reasons why roof tiles break they include overhanging trees, falling branches also the common problem when people walk on the roof also wild weather causes objects to be thrown on the roof and does serious damage or caps that get thrown and break tiles or just kids throwing objects on the roof they are just some of the reasons that roof tiles break. There have been various makers of Concrete/Cement roofing tiles over the years. Some have performed very well whilst others have performed poorly, creating more issues for home owners than originally intended. Here at Incline roofing we replace all broken or chipped tiles and we know that if this is not done properly this will result in a leaking roof.
Blocked gutters:
There are different types of gutters. Box gutters  can cause problems if there are no overflows to act as a relief valve system that will cause the overflowing of the gutters to go in the house. Normal Eaves gutters that are left full of leaves and debris  and even dirt creates a situation were the gutters gets blocked and then the down pipes all block therefore leaving nowhere for the water in the gutters to run other then overflow this will cause a problem as the overflowing lead to the water going in the house and doing serious damage especially where the eaves extend over windows. Overflowing water will run along the eaves and fall onto the head of the window – causing a cascade of water along the inside of the window and doing big damage to the inside of the house that is why here at Incline Roofing we specialize in cleaning gutters professionally so that this issue would never happen and keep the flow of water running in the gutters and keep our customers happy .
Skylights:
Can also be another reason that your roof could leak the roof itself is water tight when installing a sky light you will have to cut a hole in the roof this action a lone is a very big problem as you have now broken the seal of a water tight roof and if this skylight is not put in professionally and even in some cases if it is the seal of the roof is now broken and must be sealed by professional this is where your roof can leak also over time skylights get old and rusty causing a leak and debris and leaves cause blockages creating a leak in your roof .
Rusty valleys:
Valley iron is an important part of the roof. It is like a gutter that is installed at the bottom of two sloping roof surfaces to catch and direct the water flow away from the house. And Where you can see cut tiles on hips or valleys forming a true and straight line where the cut tiles join on each slope these valleys eventually get rusty and they damage the valley iron and cannot be repaired. And must be replaced if not they will leak and the water will go in the house also if you dont maintain your valleys you could create other problems the morter that is in the valleys if that is not maintained and there are cracks or missing morter your roof could leak it is wise to get a professional opinion on your roof and valleys that is why at incline roofing we do though inspection on all our roofs .
Faulty tile ridge capping:
On the roof you will see capping sometimes these capping create problems one problem is from The bedding and pointing under tile ridge capping can crack over time. Causing Water to seep into the cracks and leaves a pool of water behind the bedding which will cause the roof to leak.
Chimneys:
this is another area that can cause a problem when a chimney is built it must have flashing around it to keep it water tight but over time the flashing deteriorates and needs to be replaced.
Deteriorated flashings:
Like chimneys other roof flashing that deteriorates can cause a leaking roof.
Roof Painting
Incline Roofing uses the best in the market paints we want our customers to remember us in 5 or 10 years that is why at incline roofing we only use specialized roofing products that has proven its self over time and is the best in the market so customers get a professional product with professional service one one the materials we use is paint that is Formulated from high quality adhesion promoted acrylic resins, Nutech resists peeling, cracking, blistering and delamination to ensure superior Coating perfromance. Tile Roof Restoration coating system is no ordinary paint. This revolutionary coating combines advanced technology developed over more than 40 years with the special properties of Nano-Technology® to deliver superior performance.
The reality is that Concrete tiles do in fact deteriorate over time. The general idea is that Concrete cures and hardens over time, which is true, however for Concrete roofing tiles the curing process lasts around 12 months from the time the tile is created.
Concrete tiles may also develop structural defects if they are moved onto trucks and roofs, and chances are they're not left alone to completely cure before being used. These defects mainly show up many years after the tiles are installed and cannot be rectified.
As a result the tiles surface takes a hammering year in year out, with other things such as acid rain, wind and pollution Exposure to UV,and other environmental factors all contributing to the wear and tear of the concrete tiles surface. Initially, the tiles surface will oxidise and become quite powdery; once the surface coating is gone, the sand cement component of the tile also becomes affected by way of erosion.The surface of the tiles end up in the surrounding gutter system and will soil in the gutter, limiting the flow of water to the gutters, down pipes, water tank and eventually gives cause for the gutters system failing.
EFFLORESCENCE – WHAT'S THAT?
Occasionally, natural salts within concrete roof tiles can migrate to the surface to form a whitish-greyish dis colouration. It's called efflorescence and it's just a temporary cosmetic thing. You will find that it should disappear on its own over time.
At Incline Roofing we know that it is important to maintain your property and we believe by applying a good quality sealer and coating application will stop the tiles surface from deterioration, and will make your roof look and feel like new and will make your roof last for years to come as well as increase your street appearance and value of you home or assett.
You can relax when you have Incline Roof Restoration on your property knowing you will be dealing with reliable high grade tradesmen that will provide the best job to your satisfaction GUARANTEED!
At Incline Roofing we pride ourselves in:
Customer Satisfaction
Premium Quality
Guaranteed products and service for peace of mind
Honesty
Suburbs we normally service:
Albion 3020
Ardeer 3022
Cairnlea 3023
Calder Park 3037
Deer Park 3023
Delahey 3037
Derrimut 3030
Kealba 3021
Keilor (Shared with City of Hume) 3036
Keilor Downs 3038
Keilor North 3036
Keilor Park 3042
Kings Park 3021
St Albans 3021
Sunshine 3020
Sunshine North 3020
Sunshine West 3020
Sydenham 3037
Taylors Lakes 3038
City of Hobsons Bay
Altona 3018
Altona Meadows 3028
Altona North 3025
Brooklyn (part) 3012
Laverton (Shared with City of Wyndham) 3028
Newport 3015
Spotswood 3015
Seabrook 3028
Seaholme 3018
South Kingsville 3015
Williamstown 3016
Williamstown North 3016
City of Maribyrnong
Braybrook 3019
Footscray 3011
Kingsville 3012
Maidstone 3012
Maribyrnong 3032
Seddon 3011
Tottenham 3012
West Footscray 3012
Yarraville 3013
City of Wyndham
Hoppers Crossing 3029
Laverton North 3026
Mambourin 3024
Point Cook 3030
Tarneit 3029
Truganina 3029
Werribee 3030
Werribee South 3030
Wyndham Vale 3024